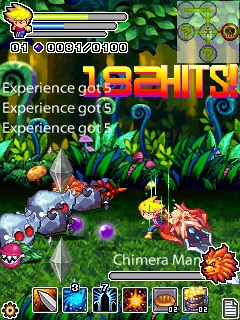 Description:
The quiet village was attacked by the armies of
monsters. And the young hero , Luke Not submitting
to them , Bravely facing the enemy ... He will have
to pass many tests Even by the very magic of the
sea bottom To find the Sword of Creation , Which is
able to destroy the Dragon , The head of all enemies. Surrounded by powerful enemies Whether Luke grab sword and
continue the rescue of his brother, and even save
the universe? Will he defeat the terrible Dragon
Sword using the Create and save the whole world?
The answer to this question will be revealed soon...
Download Links:
Nokia 5200/128x160[125KB]
Nokia N70/176x208[1.1MB]
Nokia 6230i/208x208[240KB]
Nokia 6280/240x320[840KB]
Nokia N73/240x320[1.7MB]
N97/360x640(TS)[1.7MB]